China National Energy Conservation Publicity Week: iCET jointly organized Green Energy Conservation Seminar and shared experience in transportation energy conservation
From June 11 to 17, 2018, the 28th China National Energy Conservation Publicity Week was launched in Beijing, China. The theme this year was "Energy Conservation, Consumption Reduction and Blue Sky Protection". In the afternoon of June 11, guided by National Energy Conservation Center, fifteen NGOs including Innovation Center for Energy and Transportation (iCET) and National Resources Defense Council (NRDC) held the theme seminar for National Energy Conservation Publicity Week in Tangla Beijing Hotel, Beijing. In the seminar, NGOs shared their energy conservation experience in industries, architectures and transportation sectors, spread energy conservation concepts, introduced measures and played an active role in promoting energy conservation to the public. As a leading NGO in transportation, iCET shared experience in EV consumers choices and promotion of vehicle green energy conservation policy.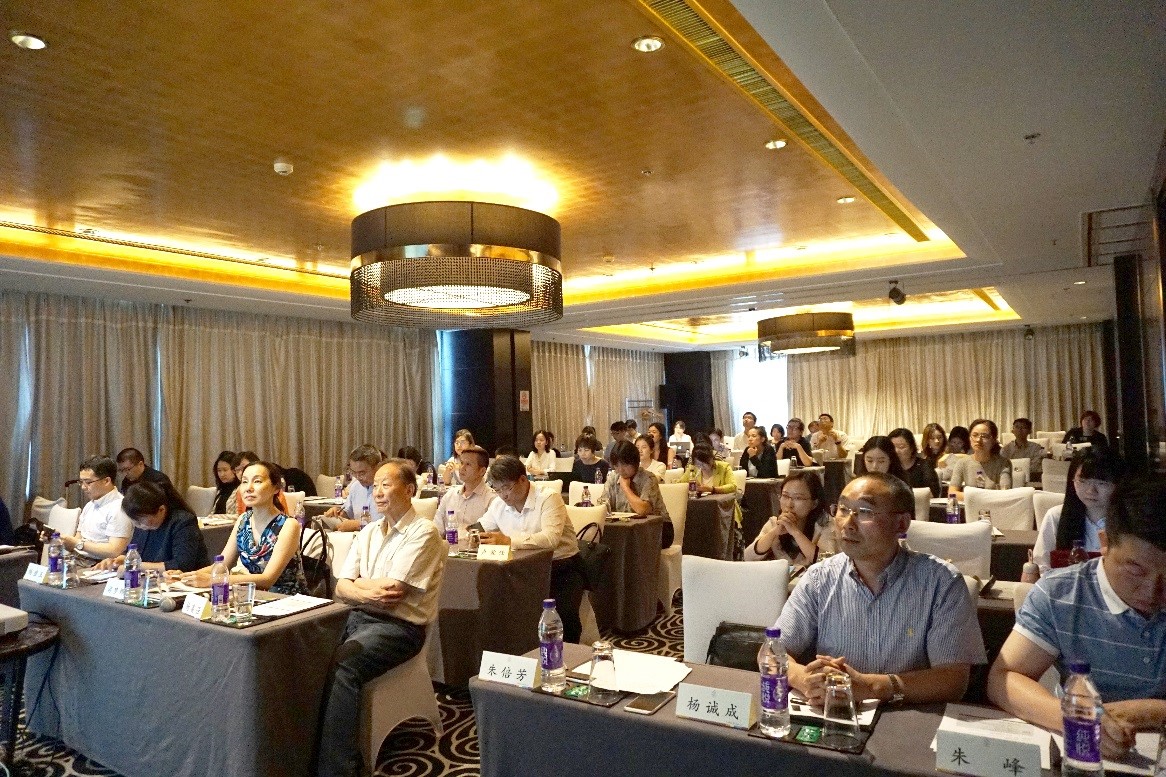 The theme seminar for National Energy Conservation Publicity Week
In the seminar, fifteen agencies signed and issued a joint initiative on green energy conservation, contributing to build the "Beautiful China". The participating agencies include iCET, NRDC, Swiss top10 Energy Conservation Center, Carbon Footprint, GREENOVATION: HUB, World Resources Institute (WRI), U.S. Environmental Defense Fund (EDF), World Wide Fund for Nature or World Wildlife Fund (WWF), Gesellschaft für Internationale Zusammenarbeit (GIZ), All-China Environment Federation (ACEF) and China Youth Climate Action Network (CYCAN), etc.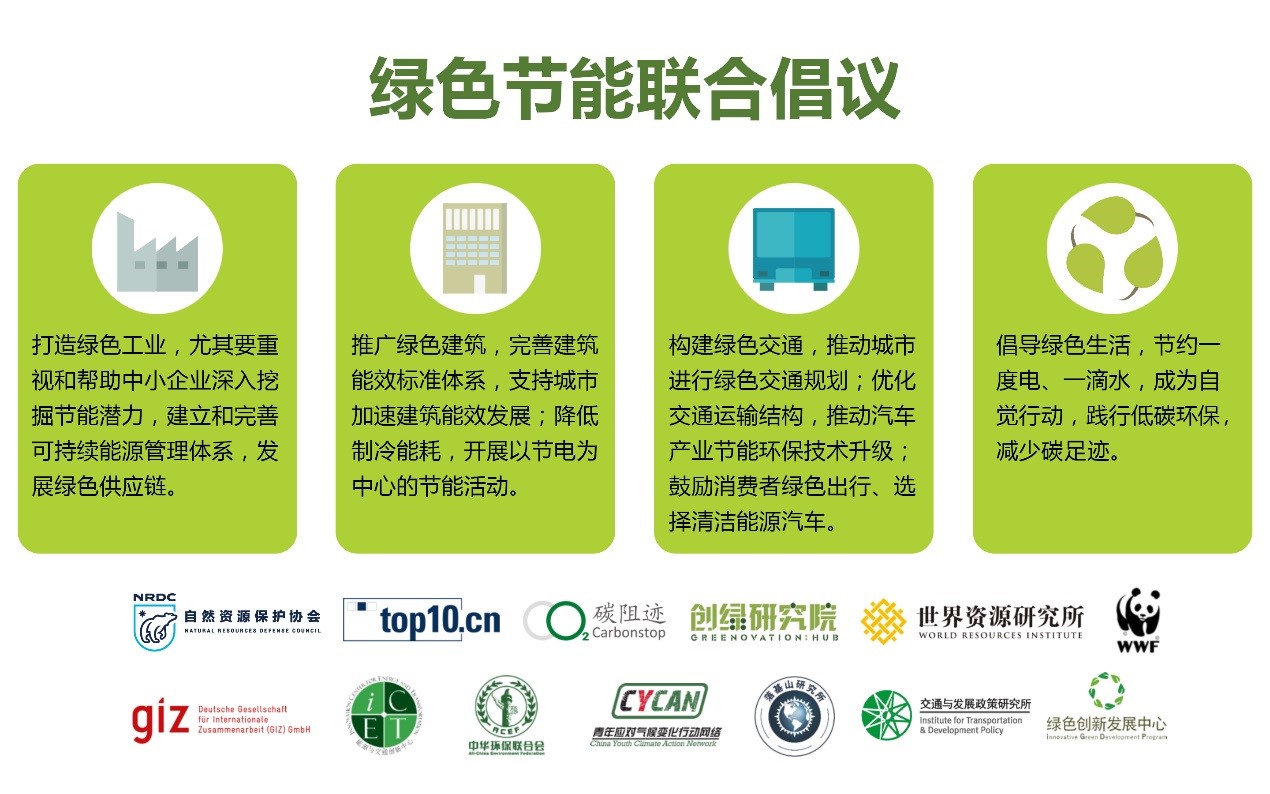 Ms. Liping Kang (Senior Manager, Clean Transportation Project, iCET) said: "Transportation is the most difficult part of energy conservation and emission control, whatever in pollution emission control or in energy emission improvement. China has been the world's largest automobile market for nine consecutive years, which means that transportation will be one of the fastest emissions growing areas in the future. This area should definitely be highly valued."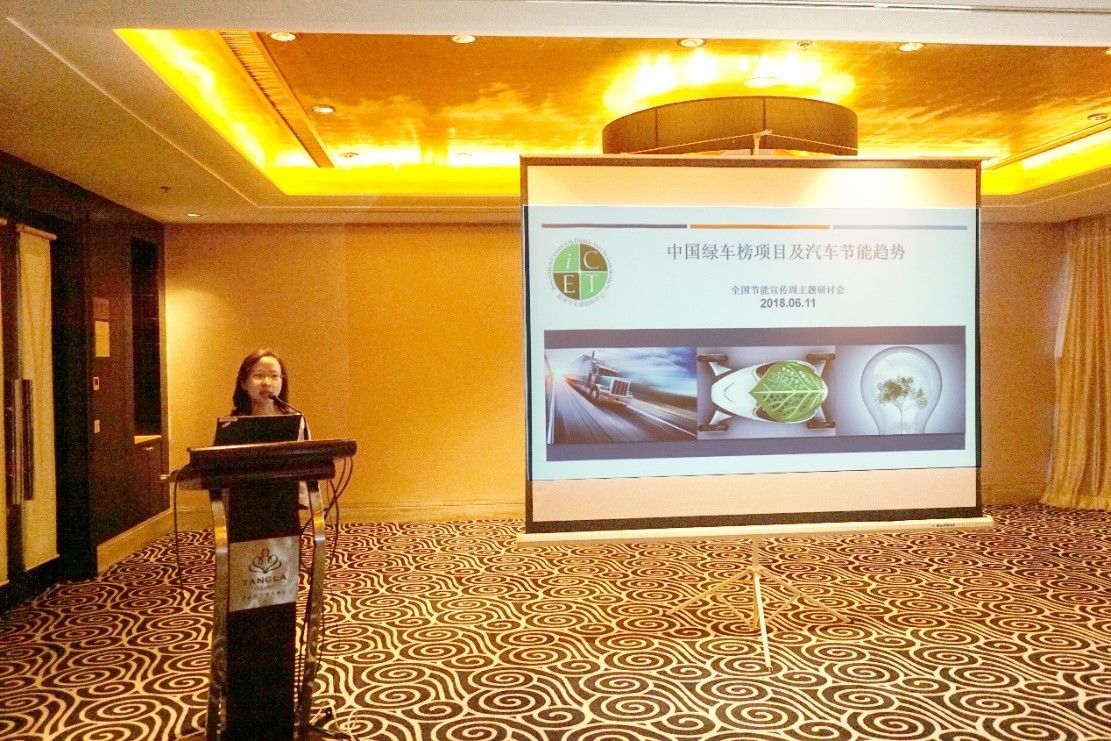 Ms. Liping Kang, Senior Manager of iCET Clean Transportation Project, is speaking
Ms. Kang also proposed that in the past, the vehicle was considered as a status symbol. However, people's ideas shifted gradually. Currently increasing people regard owing an electric vehicle, energy-conservation vehicle or eco-friendly vehicle as a way to show their advanced thoughts and tastes. Slowly penetrated into consumers' minds, the concept of environmental protection and energy conservation in vehicles has been widely concerned.
There are ten major categories of vehicles in China's official green car list, including small vehicles, compact vehicles and SUVs, etc. According to budgets and demands of consumers, the list plays a role to provide a more energy conservation and environmental-friendly vehicle for them. The emission reduction of a single vehicle on the list can reach 15% to 60%, and the terminal of electric vehicles can achieve net zero emissions. Vehicles tend to the most harmful to human beings in urban areas with dense population, while eco-friendly vehicles and electric vehicles can reduce pollutant emission and greenhouse gas (GHG) emissions in these areas. Besides, the fuel consumption of a single vehicle on the list can reach 10-30%.
Since the electric vehicle is zero fuel consumption and the electric cost is much lower than the fuel cost, it is more economic. Accordingly, we have further developed an evaluation system for electric vehicles – BestEV Project. Despite the zero-emission attraction, we hope that more consumers can choose electric vehicles which bring them better driving experience and comfort. Similar to the basic concept and starting point of the green car list, the project aims to promote energy conservation, emission reduction vehicles and zero-emission vehicles for the public.
China Green Car List and BestEV are two key projects of iCET, whose core is to promote China to enter a clean zero-emission vehicle era.
With increasing social sectors participating in promoting energy conservation vehicles and eco-friendly vehicles, a linkage process has formed among both policies and consumers. Starting from fundamental changes in concepts, the ideas of energy conservation and environmental protection will finally drive powerful actions.