iCET and World Bank (WB) Jointly Organized the First Thematical Seminar "E-Mobility in China"
28 June 2019, iCET and World Bank's Transport Global Practice jointly organized the first thematical seminar "E-Mobility in China" in Beijing. With the core of China's electro mobility, the series of seminars will mainly cover such topics as electrification, intelligence, net-connection, sharing based on talks and sharing. The first seminar focused on the theme of "A Practical Guide to E-Mobility: Learning from China's Experience".
Experts from fourteen institutions participated in the discussion (name list attached). Institutions include World Bank, Innovation Center for Energy and Transportation(iCET), China Academy of Transportation Sciences, Beijing Municipal Bureau of Economy and Information Technology, China Automotive Technology and Research Center, Tsinghua University, Energy Foundation, Gesellschaft für Internationale Zusammenarbeit (GIZ).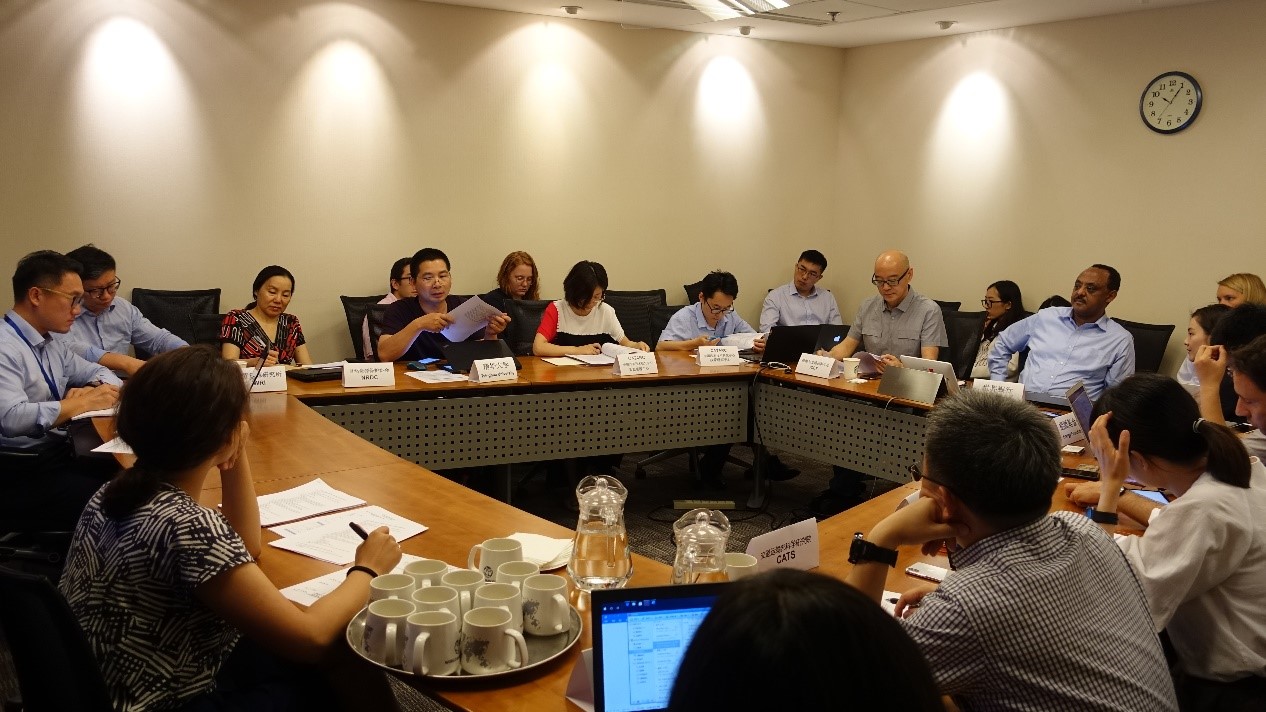 seminar scene
Mr. Binyam Reja, the Transport Practice Manager for Central Asia, China, and Mongolia of World Bank and Dr. An Feng, the Founder and Executive Director of iCET delivered speeches together, stating the purpose of this seminar: based on the knowledge of each institution's work and advantages gained in the process of electro mobility in China, World Bank hopes to work with members to summarize referential experience in the past decade and more to form a report, aiming to share it with policymakers of E-mobility in other countries and to make contributions in the realization of global E-mobility.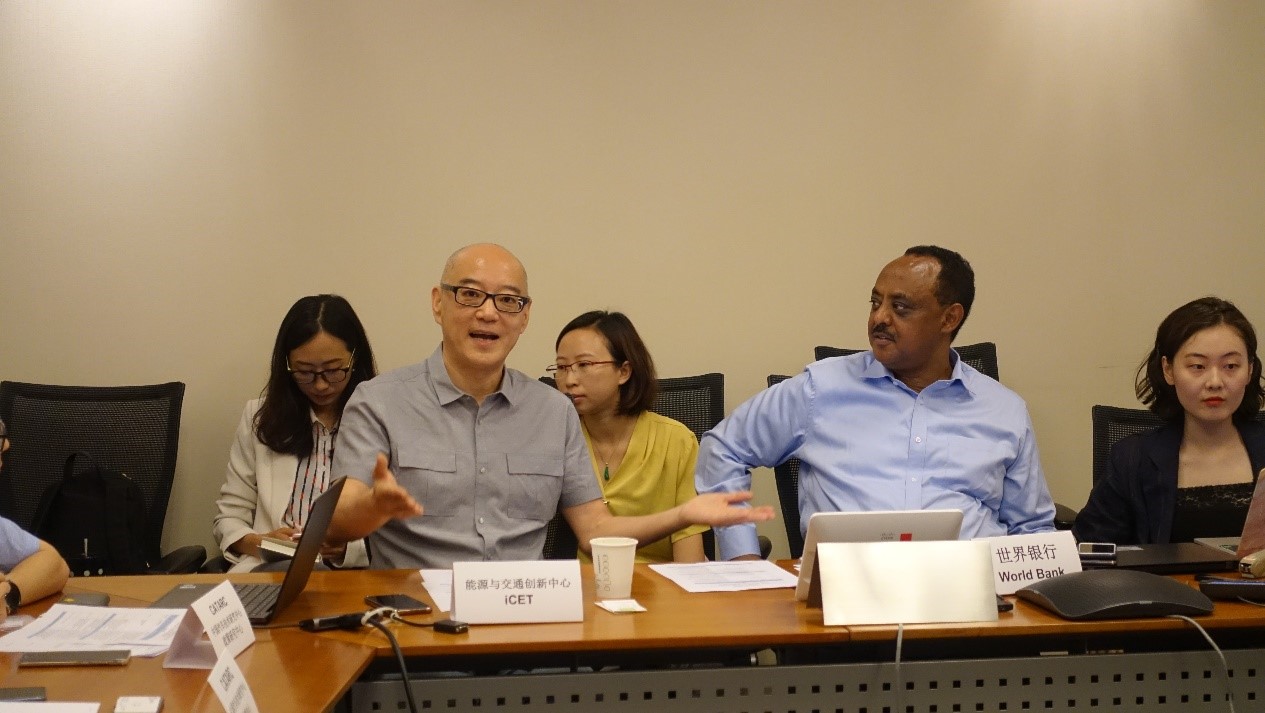 Dr. An Feng and Mr. Binyam Reja delivered opening speeches
Zhou Weimin and Chen Yang, Senior Transport Specialists from World Bank introduced the structure and research process of the report named "A Practical Guide to E-Mobility: Learning from China's Experience" and discussed with guest members about the collaborative manners accordingly. The report will start from the status quo of E-mobility in China, elaborating the development and experience of China's practice as well as emerging problems and solutions from the perspectives of institutional regulation system, financial support, technology transition and market development; comparing the promotion methods between China and other major countries; incorporating the case study of electronic buses and bicycles in Shenzhen and prospecting the focus of E-mobility in China; and summing up China's E-mobility experience.
Opinions from guests
Guest experts successively presented their opinions. They briefly related the implementation situation of the programs and researches of their representative institutions in China's E-mobility; proposed advice on modifications of the structure and content of the report, such as clarification of the definition of E-mobility, more inclusion of challenges confronted by China's E-mobility, summary of the chapters of experience and lessons and comparison of international experience; addition of case studies of other cities besides Shenzhen. All the present institutions expressed the intent to take an active participation in and make contributions to the work of wiring the report, providing data and cases. At last, the half-day seminar ended up with the summary of Binyam Reja after animated discussions.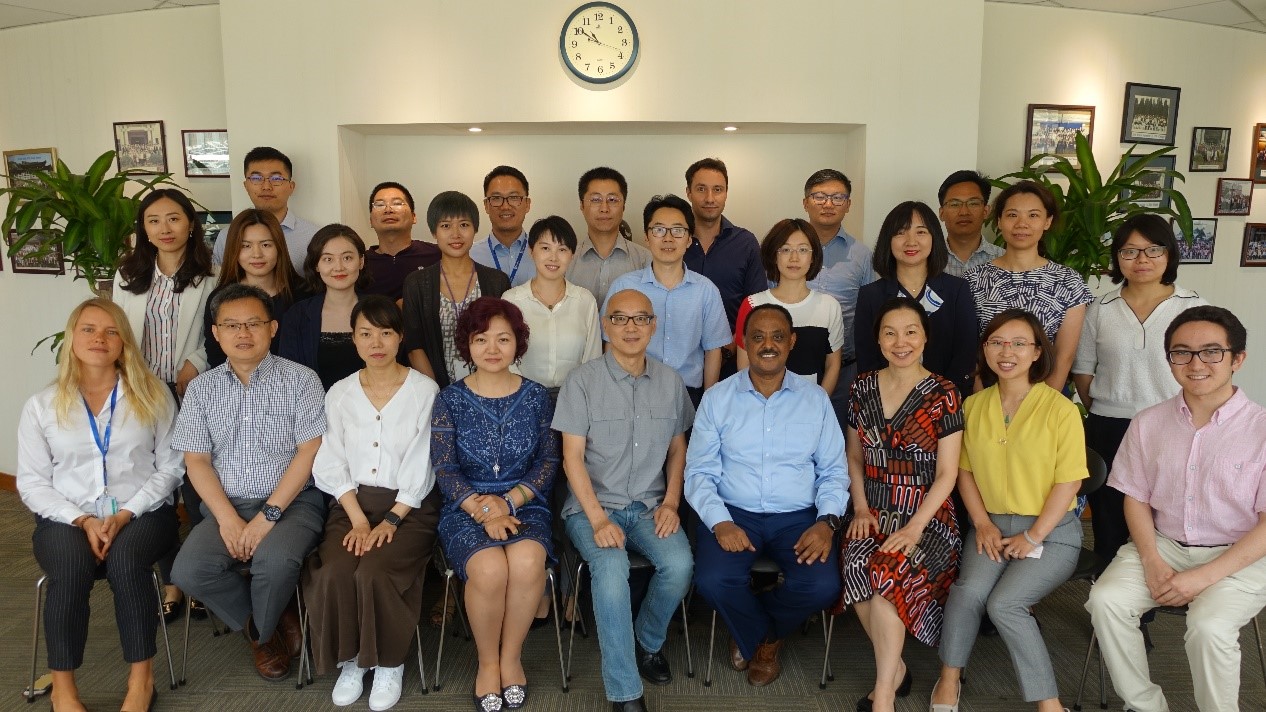 guests taking a group photo
Main experts include:
Liu Daizong, Program Director of Ross Center for Sustainable Cities, The World Resources Institute (WRI)
You Mengna, Deputy Director of Natural Resources Defense Council (NRDC) China Ou Xunmin, Associate Professor of China Automotive Energy Research Center, Tsinghua University
Ren Huanhuan, Director Assistant of Automotive Data Center, China Automotive Technology and Research Center (CATARC)
Liu Bin, Director of Policy Research Department, China Automotive Technology and Research Center (CATARC)
Dr. An Feng, Founder and Executive Director of the Innovation Center for Energy and Transportation (iCET)
Chen Jianhua, Transportation Program Director, Energy Foundation
Sebastian Ibold, Low-carbon Transportation Program Director, Gesellschaft für Internationale Zusammenarbeit (GIZ)
Li Shanshan, Deputy Director of Institute for Transportation & Development Policy (ITDP) China
Dr. Li Cheng, Associate Researcher of Urban Transportation and Rail Research Center, China Academy of Transportation Sciences(CATS)
Xu Yang, Director of International Department, China EV100
Xu Hongwei, from Automobile Sector of Beijing Municipal Bureau of Economy and Information Technology
Liu Xueye, Transportation Program Officer of C40 Cities Climate Leadership Group
Participants from the below organizations: (in no particular order)
World Bank
Innovation Center for Energy and Transportation
Urban Transportation and Rail Research Center, China Academy of Transportation Sciences
Beijing Municipal Bureau of Economy and Information Technology
Automotive Data Center, China Automotive Technology and Research Center
Research Department, China Automotive Technology and Research Center
China Automotive Energy Research Center Tsinghua University
China EV100
Energy Foundation
The World Resources Institute
Natural Resources Defense Council
Gesellschaft für Internationale Zusammenarbeit (GIZ)
Institute for Transportation & Development Policy
C40 Cities Climate Leadership Group